ISWS DC ISWS Ch UKC Ch UKC AGRCH BOSS Kristull Honey Ryder GRC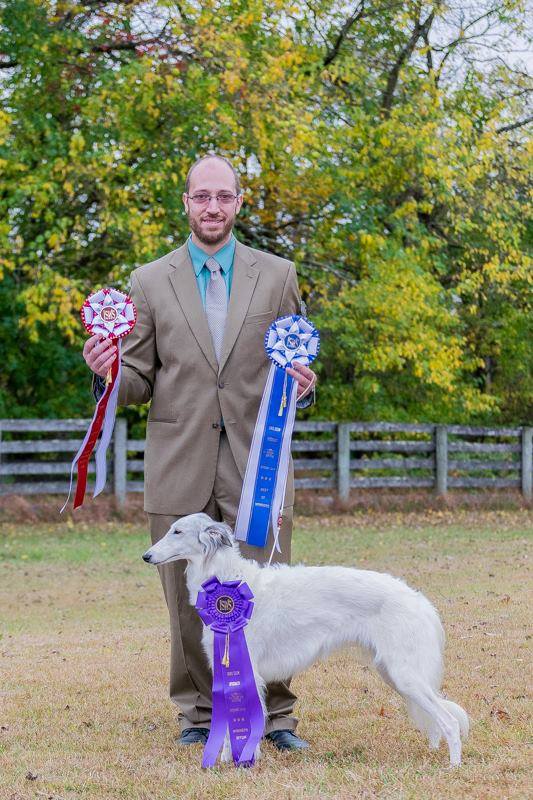 Honey is our foundation bitch, our introduction to Silken Windhounds, and the reason Silkens will always be a part of our life.  From day 1 there was an instant bond that has been unwavering. Honey is a joyous, loving dog that has continued to exceed all our wildest dreams.
She is a flawless show dog, a consistent runner, and lives for cuddles. At 10 years old she became our first ISWS Dual Champion. She continues to love showing and has won UKC Altered Best in Show as recently as fall of 2022.
---
MBIF UKC Ch CSB Agent Rosa Klebb "#3" FCh
Three is extremely biddable and handler focused. Her performance prowess earned her a place on an ASFA perpetual trophy.
True to her name, Three has won Best in Field three times in the course of earning her ASFA Field Champion title. She keeps winning dog beds!
---
ISWS BPISS UKC Ch CSB Agent Bell Rocket Belt
Rocket won Best Puppy in Sweepstakes at Silkenfest 2022 under breeder-judge Sandra Moore-Doby, who complimented his movement and his strong front.

Rocket has run LGRA and ASFA successfully and is close to multiple performance titles.
He is a big goofy boy who loves everyone and every animal he meets. We have high hopes for his future contribution to the Silken Windhound breed.
---
MBIF UKC Ch CSB Multiverse Traveler@Spirit FCh
Verse is a small, well built Silken who is LGRA pointed and has earned her ASFA Field Championship in style, going Best in Field multiple times in 2022. She earned her first Grand Champion leg earlier this year.
Verse is super affectionate, sweet, and extremely people focused. If Verse could be perched on top of your shoulder like a parrot, she would probably prefer that.
---
UKC Ch CSB Agent Miss Taro ITD
Taro was our pick of the litter practically from day one.  She has always been a sweet, affectionate, athletic dog that is as much at home on our laps as she is on top of dog houses.  She inherited her mother's "forcefully affectionate" demeanor and then some!  
Taro has won Best Bred By Exhibitor at multiple Silken Windhound specialty shows including at the MWSA Specialty and once again won Best Bred By Exhibitor at the ECSW Specialty.
Along with temperament, we were struck by her unique coloration (grizzle aka sable or domino), the quality of her coat, her wonderful topline, bend of stifle, and strength of her underjaw.
She whelped three litters for us and they are already proving themselves – among the highlight being two of them are ASFA MBIF/BIF winners, one BPISS at Silkenfest, another WD at Silkenfest, and a BPISS at the ECSW Specialty.
---
If you're interested in getting a puppy from us, please don't hesitate to reach out to us. But first we recommend you read our page on how to identify a responsible silken windhound breeder in order to get an idea of our philosophy towards breeding. You can learn a bit more about our breeding program on our home page as well. Our most up to date information is generally available on our Facebook page and we prefer you reach out to us through there. A lot of dog breeders, ourselves included, are inundated with inquiries – the pandemic has given people a lot more time to consider their lifestyles and how a companion animal might fit into their lives. Please don't hesitate to reach out to us more than once if we don't respond in a timely fashion.